Fishing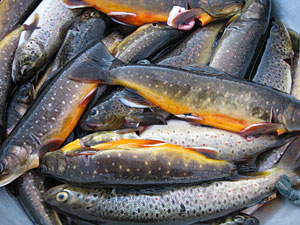 Huge Lakearea opens up right in front of our cottage. It gives you a great opportunity to go out fishing. The most common catch is Pike, Wallye and perch but still theres lots of other fisch species that can bend your fishingrod.
One of the most popular fishing methods during open water is Trolling. Summertime when sun stays up all night is time for wallye. I`ll take you out trolling and set you up with the right gear. All you and your friends have to do is show up and have a good time.
Wintertime is popular for its ice- and netfishing. You can join me on my visits to my fishnets that are in the lake under the ice and have to be checked regularly every 2 to 4 days. After that I can make you lunch at our cottage from freshly catched fish.
I also offer an opportunity to go up north, Lappland, for spring hiking/icefishing experience. Best time weatherwise too is April-May. Together with another professional guide we take you to best spots to catch Arctic char and Grayling.